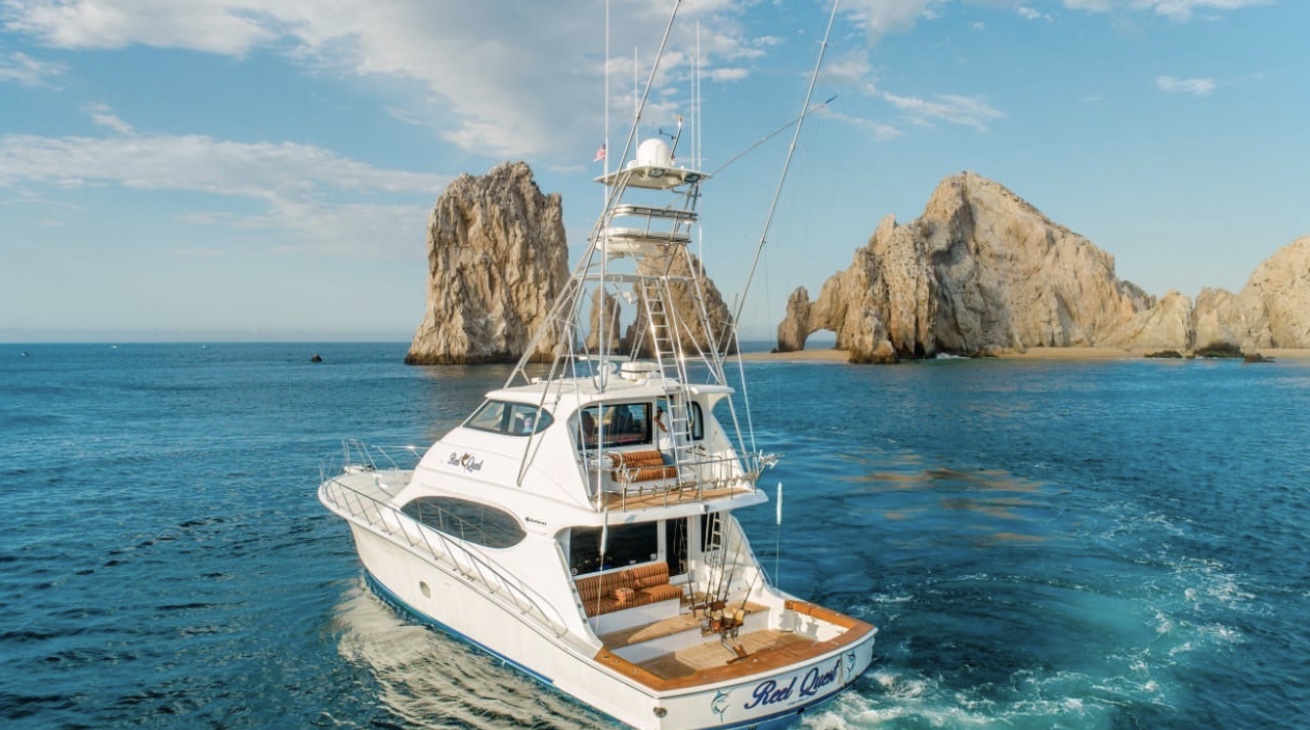 CABO SAN LUCAS CHARTERS ABOARD OUR 68′ HATTERAS CONVERTIBLE
12 Passengers
$500 per hour – 3 Hour Min.
Bar and food – see pricing tab
TEAM REEL QUEST IS A PRIVATE/CHARTER SPORTFISHING TEAM BASED IN CABO SAN LUCAS MEXICO.  SHE IS A 68 FT. HATTERAS CONVERTIBLE LAUNCHED IN 2006.  SHE WAS BROUGHT TO CABO AS A TEAM REEL QUEST BY OWNER DICK LANDFIELD AT THE BEGINNING OF 2010. IN 2016 BRAD STEVENSON WAS BROUGHT ON BOARD AS A PARTNER IN TEAM REEL QUEST.
TEAM REEL QUEST HAS SINCE DERIVED ABOUT A 150 DAYS A YEAR FISHING HABIT CONSISTING MOSTLY OF FISHING OUT OF CABO. SPECIES INCLUDE BLUE, BLACK, AND STRIPE MARLIN, TUNA, DORADO, WAHOO, AND SAILFISH.
TWO TO THREE TIMES A YEAR TEAM REEL QUEST MAKES TRIPS TO EITHER THE BUFFER ZONES OFF THE REVILLAGEGIGEDOS ARCHIPELAGO. THE TARGET SPECIES ARE COW YELLOWFIN AND WAHOO BY THE BUNCH. OR SHE MAKES HER WAY TO MAGDALENA BAY TO TAKE ADVANTAGE OF THE RENOWNED STRIPE MARLIN FISHERY.  YOU WILL ALSO FIND TEAM REEL QUEST IN PUERTO VALLARTA FROM TIME TO TIME IN SEARCH OF COW TUNAS AND BIG BLUE MARLIN.
TEAM REEL QUEST HAS ALSO SET OFF ON A MISSION OF A LIFETIME. IN 2012 OWNER DICK LANDFIELD DECIDED TO TAKE A 5-MONTH TRIP ALONG THE PACIFIC COAST OF CENTRAL AMERICA. DESTINATION TROPIC STAR LODGE IS LOCATED ON THE SOUTHWESTERN COAST OF PANAMA FISHING GIANT BLACK AND BLUE MARLIN.
Call Us