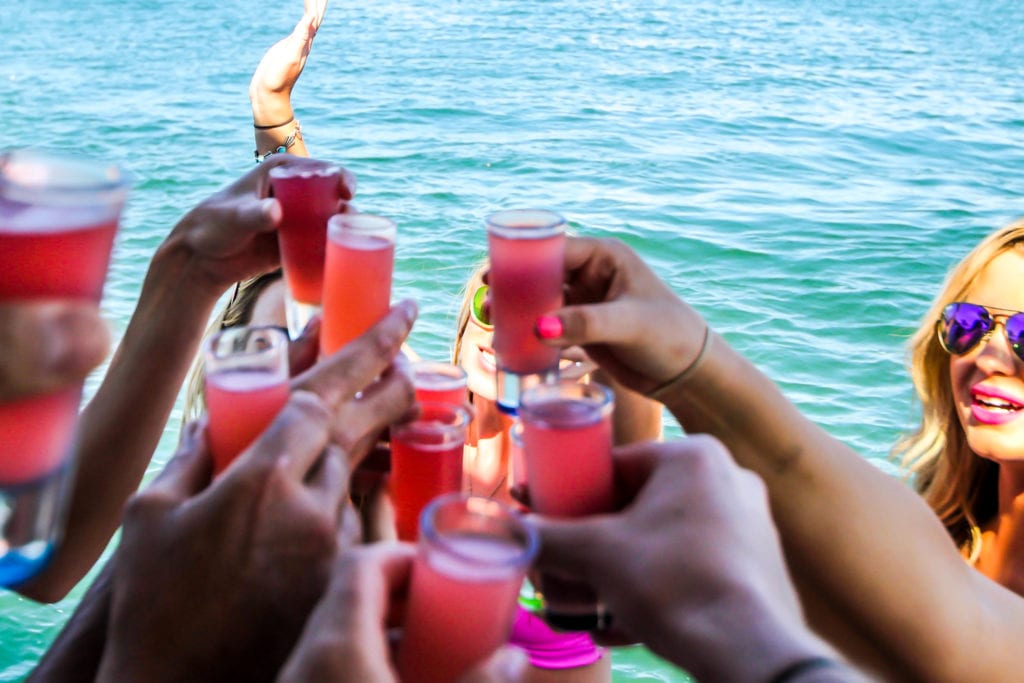 Booze Cruise
As fall is fading away and spring is showing the better side of San Diego – high 70's, blue sky's and amazing sunsets, come soak it all up with cocktails, music and fun. We customize every yacht charter to make it the best experience for you. If you want live music, appetizers or a full dinner spread we know how to party on the Bay!!
The bay is considered one of the finest natural harbors in the world, and affords excellent protection in any weather; it is free of excessive tidal current movements. A low, narrow sandspit, which expands to a width of 1.6 miles at North Island on its NW end, separates the bay from the ocean.
Here's what some have to say ….
Ashlyn from Austin Tx.
"My girlfriend's and I booked a 4 hour yacht cruise through Mai Tai Charters for my bachelorette weekend and it was AMAZING! Skip Vegas and the pool parties and take a trip around the SD harbor instead. Trust me! We had so much fun sightseeing from the water, listening to music, paddle boarding, eating lunch and partying. The crew made sure our drinks were full and that we got plenty of photos. Emily, our bartender, was so sweet and attentive. She knew exactly how to keep the party going and made sure we were having fun. I can honestly say that I had the BEST bachelorette party thanks to Mai Tai Charters. Response times were quick and booking was a breeze. Everything was seamless from beginning to end!"
Kristi from Chula Vista, CA.
"Having been around the water all of my life I have experienced many boat adventures, but this was by far the BEST! I can't remember a time that my friends and I have had more fun. I was amazed at how accommodating Captain Dan was throughout the trip. He made sure we had the music of our choice playing on the amazing stereo system, a drink in our hands, and a smile on our faces the entire time! I felt as though I had left my regular life behind and entered paradise for a few hours. The accommodations were fabulous. We laid out on the deck, drank in the cabin, anchored to swim, and took in the awesome sights San Diego has to offer. There are so many things I can say about this fabulous adventure, but they would never truly begin to describe the actual experience. I can't wait for my next escape on the Mai Tai! I give this business my highest recommendation!"
Anna from San Diego, CA.
"We had the BEST time with Captain Dan aboard the Mai Tai. I was planning a girl's outing for a friend's birthday and found Mai Tai through Yelp. Captain Dan was very flexible. We were to set sail at 1PM for a 4 hour cruise. Some friends arrived 5 minutes late, and Dan was super cool about it, and even extended our time!
We cruised around the bay and saw the Midway from an angle you would never otherwise see. It was such a beautiful way to see San Diego. Then we cruised over to Coronado and anchored there while a bunch of us jumped in the water and swam. It was such a great way to spend a hot day in San Diego.He had a bartender Miki who was super helpful and provided top notch service. She made sure we always had a drink in our hand.The boat itself is gorgeous, class A. We would do it again in a heartbeat! Highly recommended."
Call Mai Tai Yacht Charters and plan your perfect Booze Cruise. We'd love to hear your review !! (858) 583-3447