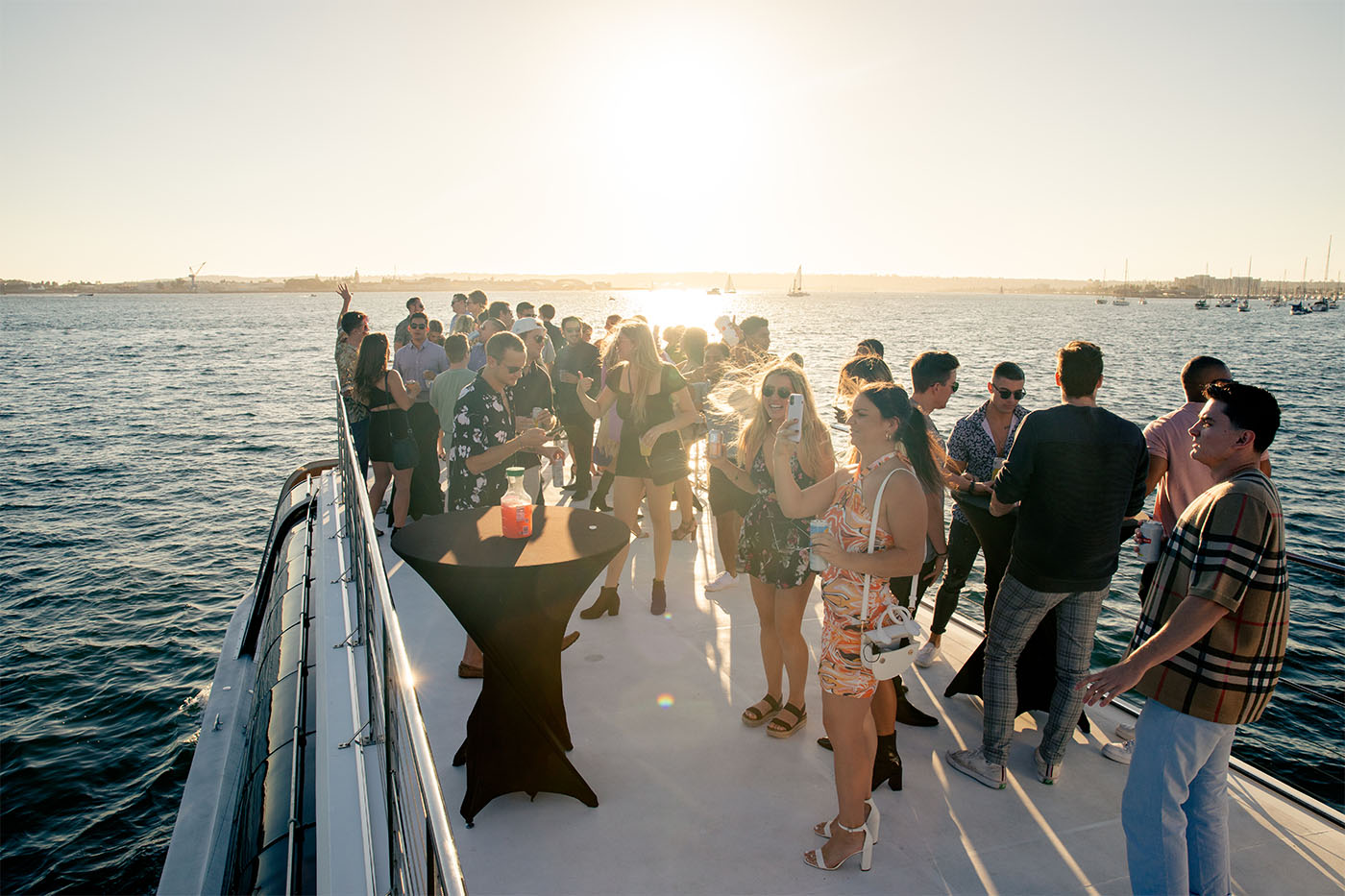 Mai Tai Yacht Charters: Hosting Corporate events in San Diego
San Diego stands as the perfect destination for corporate events, especially when it comes to hosting unforgettable holiday gatherings and team-building experiences. How blessed we all are to enjoy the weather of Southern California in one of the most scenic Bayfront cities. Mai Tai Yacht Charters has enjoyed 10 years of catering to our business community by hosting corporate events in San Diego on our yachts. Whether it be holiday celebrations, awards banquet cruises, employee appreciation, team building, Presidents Club Winners or entertaining clients, Mai Tai Yacht Charters has the yachts and experiences to make it a complete success.
For companies coming into San Diego from out of town, Mai Tai Yacht Charters is able to offer remote boat pick up and drop off at a few key hotel locations to include, The Hyatt Manchester, The Marriot Marquis, The Sheraton Harbor Island, Loews Resort and the San Diego Convention Center. In some cases, we can dock our yachts at the resorts to be used as customized meeting spaces to entertain clientele looking for the best places in San Diego for corporate holiday events.
Don't just take our word… Read the hundreds of 5 Star reviews on Google and Yelp. Mai Tai Charters takes great pride in being a top choice and leader in yacht charters on San Diego Bay, making it one of the best places in San Diego for corporate holiday events. The main goal is to exceed our customer's expectations and create experiences which leave everyone with a smile and lifelong memories.
FULL SERVICE MAKES IT TURN KEY AND EASY TO PLAN
Make it an easy turn key event with all the services Mai Tai offers. Full bar service, full-service catering, decorations, DJ's and everything a company would desire for all events. Mai Tai Yacht Charters has a world-class website designed to full of information to make it easy to understand the many services, packaged offerings, and pricing, which is unusual for a yacht charter company. Though the packages make it easy, these events are special to the customer, and Mai Tai Yacht Charters will customize and accommodate the needs of the corporate client looking for the best places in San Diego for corporate holiday events.
PRIVATE YACHT CHARTERS EQUALS PERSONALIZED SERVICES
When a company first engages with Mai Tai Charters it's a detailed Q&A about what you want, what you want to accomplish and the specifics designed by your corporate staff. That with the years of experience of planning these events on our yachts we can offer options to deliver as you want as well as thoughtful suggestions to enhance the process from planning, corporate communications all the way up to the actual event.
When a corporation plans a special event there is always a goal in mind. The production of a company is often based on the team environment and comradery of the people. When the people are in sync with company objectives, true success is a sure byproduct. Some special events can be quite elaborate costing hundreds of thousands with months of planning and can be very labor intensive. With Mai Tai Yacht Charters we do most of the work in planning with your company and the overall cost is very reasonable on a cost per person basis. Highlight San Diego Bay and the great joy of experiencing a private yacht for your company's next event.