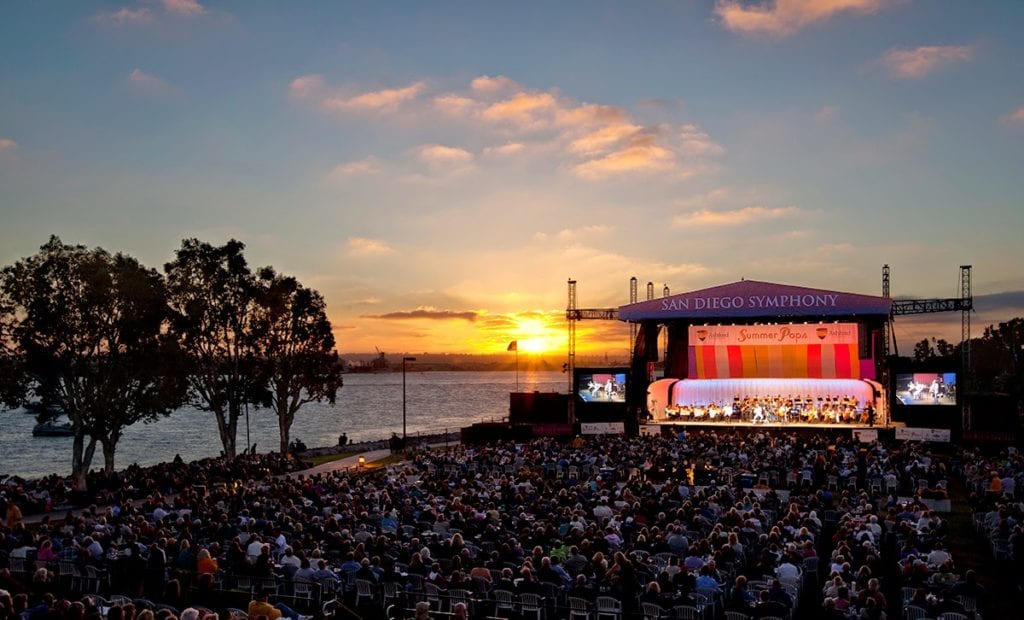 Embarcadero Concert Series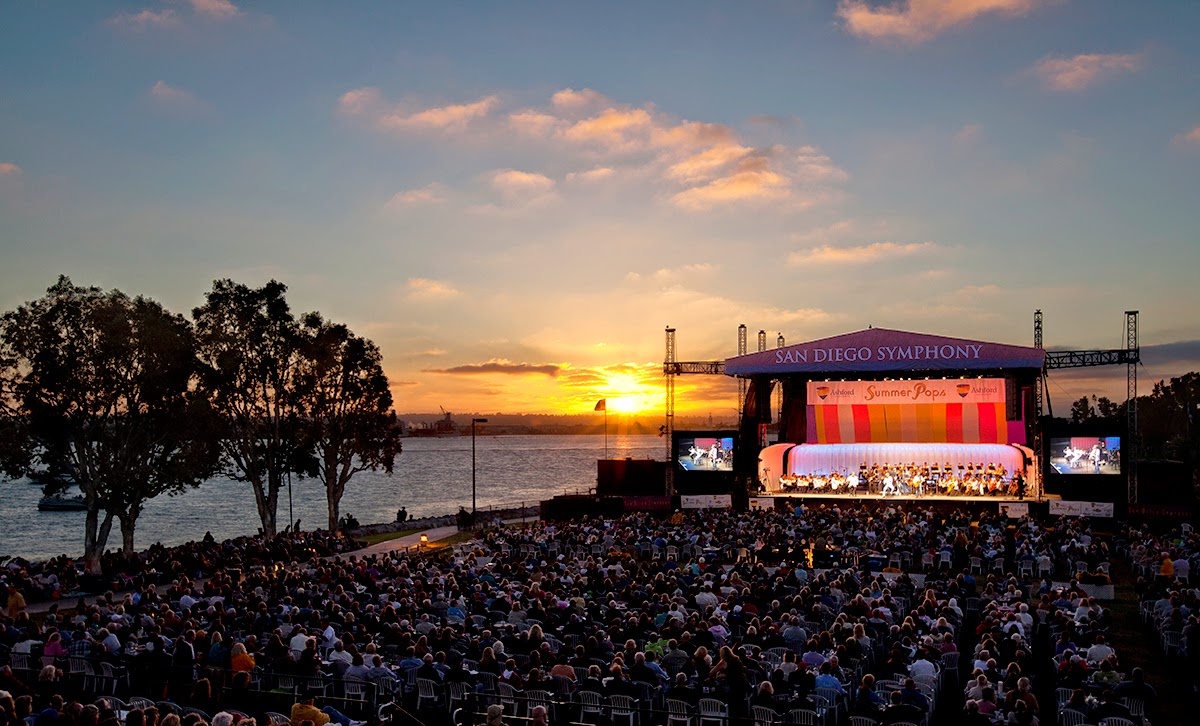 San Diego has the most amazing Bayside entertainment parks. The Embarcadero is about to launch it's annual concert series. With a large stage right on the Bay, we love to anchor with a full view and great sound. Best seat available, no ticket prices and no traffic in and out. You just can't beat yachting and symphony and concerts.
Upcoming performers: Wynonna Judd, Herb Albert, Air Supply, Boz Scaggs and one of my favorites – Grace Potter.
http://www.sandiegoreader.com/places/embarcadero-marina-park-south/# http://www.sandiegosymphony.org/bayside2016/?gclid=CJTcp-Dy2NICFYKSfgodIQ4JjA
San Diego Symphony Announces Bayside Summer Nights 2017 Lineup
Popular concert series to include Tony Bennett, Wynonna Judd, Leslie Odom Jr., Sergio Mendes, La La Land with live orchestra and more
San Diego, Calif. – The San Diego Symphony has announced an impressive lineup of artists for its 2017 Bayside Summer Nights including legendary crooner Tony Bennett; star of Hamilton and Tony Award‐winner Leslie Odom Jr.; internationally acclaimed Brazilian artist Sergio Mendes; country songstress Wynonna Judd; Grammy Award‐ winning Beninese singer Angélique Kidjo; and films accompanied by live orchestra, Academy Award®‐winning La La Land, Harry Potter & The Chamber of Secrets TM and E.T. – The Extra Terrestrial. San Diego Symphony's popular and highly successful summer series truly has something for everyone!
The San Diego Symphony's long‐running summer concert series located on the Embarcadero Marina Park South provides audiences with an unparalleled experience of live concert music in one of the most beautiful settings in America. Formerly known as Summer Pops, Bayside Summer Nights provides a variety of musical offerings – from popular tunes to light classical to movie entertainment fun for the entire family. This year, the San Diego Symphony has packed a wide array of concerts into the 10‐week season. The series begins with the patriotic Star Spangled Pops on June 30, July 1 and 2, and concludes with a bang with the 1812 Tchaikovsky Spectacular on September 1, 2 and 3.
"Last year's Bayside Summer Nights was our most successful summer season on record and proved we had a perfect combination of vibrant performances and engaged audiences; we look forward to 2017 being an equally incredible season," said CEO Martha Gilmer. "Bringing some of the greatest artists of today to perform with our extraordinary Orchestra musicians makes this a unique musical festival here in San Diego. We are also especially excited to bring back two very important community concerts. On Sunday, July 16 we will be presenting our second annual "Community Day," a day of music featuring our region's very best musicians and culminating in a free performance by the San Diego Symphony. And on Thursday, August 31, the Symphony will perform our annual free concert for military families. This has always
been a crowd‐pleasuring concert which not only brings military families together, but also allows us to express our thanks and admiration for their service."
Enhancing the guest experience, concert‐goers may bring in picnics to enjoy from the lawn seating or take advantage of the convenient tableside food service offered in the Champagne seating section by Behind The Scenes – a leading catering and events company with an impressive client list including the Olympic Games, ESPN X Games and the NFL Super Bowl. To compliment the great wine list currently offered, new this summer will be an expanded microbrewery offering in partnership with Stone Brewing Co.
Thursday Night Jazz
In its second year, the Symphony's popular Jazz Series, Thursday Night Jazz, is back with a wide range of styles. This three‐concert series begins on July 27 with New Orleans Jazz and a salute to the birthplace of American jazz and the many masters who forged it on Bourbon Street and beyond. On August 10, guests will be able to enjoy a party onstage with some of the country's most talented Latin jazz musicians coming together to perform for one night only in Latin Jazz Masters. The series concludes on Thursday, August 24, when John Beasley presents MONK'estra, the killer contemporary big band that pays tribute to the music of Thelonious Monk. The series is once again curated by Gilbert Castellanos.
Movies by the Bay
The San Diego Symphony's multi‐year Harry Potter Film Concerts project continues as audiences relive the magic of the phenomenal Harry Potter & The Chamber of SecretsTM on Saturday, July 29 and Sunday, July 30 on giant screens while hearing the orchestra perform John Williams' unforgettable score. On Friday, August 11, Steven Spielberg's family classic E.T. – The Extra Terrestrial will be shown on the big screen while the orchestra performs the entire Academy Award‐winning score live. Then, on Saturday, August 12, the winner of six Academy Awards® including Best Original Score and Best Original Song, La La Land will be screened with the orchestra and jazz musicians performing live.
New Sunday Classic and World Celebration Series
Supplementing the existing subscription series, a new three‐concert series is being offered and is perfect for those who love hearing the classics or looking to have some fun sampling the sounds of the world. The Sunday Classic Series includes the Star Spangled Pops (July 2), Boléro By the Bay (August 20) – the ultimate classical pops experience of Beethoven's famous Symphony No. 5 – and on the final Sunday of the season, the 1812 Tchaikovsky Spectacular (September 3). The Sunday World Celebration Series will explore the 1960s bossa‐nova master Sergio Mendes (August 6), Benin's Angélique Kidjo (August 13) and a special Latin artist to be announced (August 27). The Sunday Sunset Series will now be all six of these Sunday concerts.
All Bayside Summer Nights concerts begin at 7:30 p.m. unless otherwise noted; gates open at 6 p.m. Fireworks happen at the conclusion of all Friday and Saturday night concerts—and also on Sunday nights at the Star Spangled Pops and 1812 Tchaikovsky Spectacular.
Mai Tai Yacht Charters has great packages available to hear the concert of your choice. Our anchor point gives a great view and full sound of all events. Food and drinks are options to make the night extra special. Call us to today to book your date. (858) 583-3447