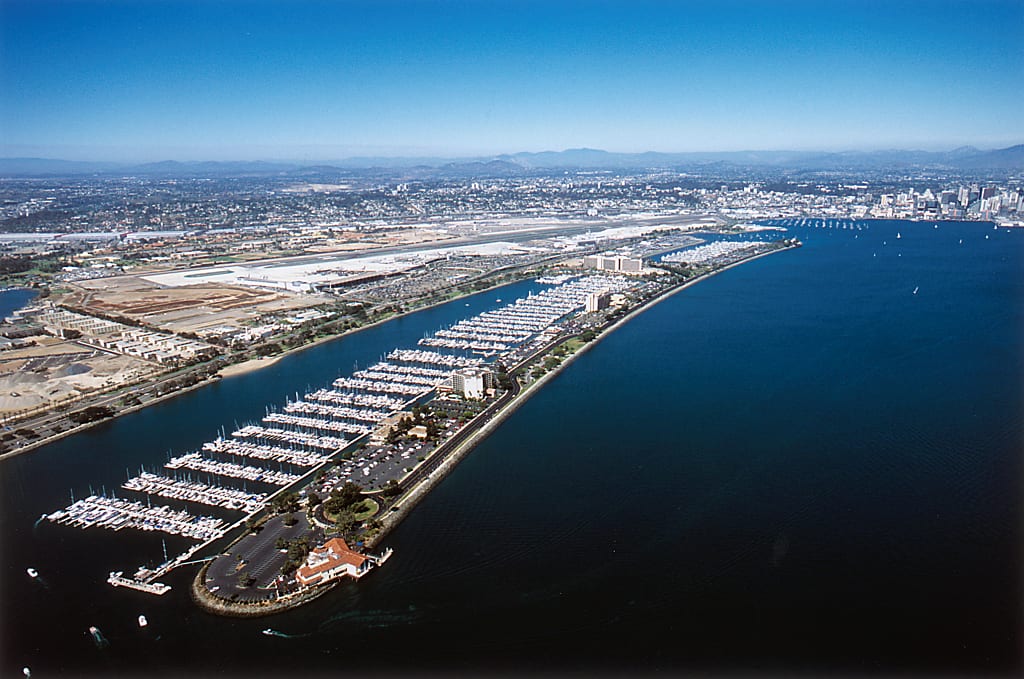 Harbor Island bidders include $2B aquarium plan
Six bidders submitted plans Tuesday to redevelop 57 acres of land and water on Harbor Island, across from Lindbergh Field.
One team proposes a $2 billion aquarium and vertical farm complex. Another wants to build a local history dinner theater.
The San Diego Unified Port District staff plans to select which teams to interview the week of Jan. 11 and to recommend one or more finalists in March. The agency could instead issue a second round of development requests to potential bidders.
The port expects its chosen project to generate more than the $2.3 million the agency collects annually from rental car companies, which are relocating next month to a new facility off Pacific Highway at the eastern end of Lindbergh Field.
The agency asked bidders to consider building one or more hotels, a new port headquarters building, office space for military or maritime businesses, new parkland and retail and restaurant space.
Whatever is ultimately chosen will require extensive environmental review and approval by the port board and the California Coastal Commission. It's not expected that any new major development would open before 2020.
The bidders were identified as:
▪ Janez Properties, a San Diego-based real estate consultant.
▪ OliverMcMillan, a San Diego-based residential and commercial developer whose website lists dozens of projects in various stages of development.
▪ Pacific Coast Historical Dinner Show, an Imperial Beach startup.
▪ Sunroad Enterprises, a San Diego-based developer of car dealerships, marinas and various commercial ventures.
▪ Topgolf International, a Dallas-based operator of 31 golf entertainment complexes.
▪ Tripp Development, a Cambria-based residential and small commercial development company.
Rick Tripp, principal in his Central Coast company, shared his bid package, which calls for an ambitious complex he valued at $2 billion and could take seven years to build. "We're looking at something dramatically different with some of the 50-some acres of the redevelopment site," Tripp said.
He proposes a 700,000-square-foot "San Diego National Aquarium," which would make it the largest in North America and designed on the same order as the iconic Sydney Opera House in Australia.
On either side would be a total of 2 million square feet of "vertical urban agriculture" operations in a pyramid and arch as much as 300 feet high. Crops of all kinds would be shipped from the site, justifying its bayfront location, Tripp said.
Other features include three hotels with 1,400 rooms; a people mover to the airport and a San Diego Trolley stop; a 500-foot-high "sky spire" observation ride; a 70-foot-wide promenade along the waterfront; and shops and restaurants to serve a projected 3 million annual visitors.
Tripp said if he makes the interview stage, he will tell the port that he has international investors "pretty well squared away" and will nail down development partners if selected.
Zach Shor, real estate vice president for Topgolf International, said his company wants to build a facility on 8 to 15 acres where 1,000 guests would hit golf balls to targets and find out instantly how far they traveled.
The 65,000-square-foot building complex would cost about $30 million and include food and beverage services. The company just opened its 24th facility at Virginia Beach and hopes to open 11 more in 2016. "We thought this is is amazing opportunity to get close to the urban core of San Diego, capture all of South County, and build a flagship, top golf venue for the whole San Diego market," Shor said.
The third bidder who shared his concepts, Roger Benham, said he has formed a team of about 10 members to build an aircraft-hangar style theater facility on about 10 acres of the Harbor Island site to serve about 1,200 guests. "We feel there is a great need for this type of entertainment," Benham said.
The port previously planned to lease 9 acres for a 500-room hotel on the peninsula's elbow but combined that bid with the rental car property.
Sunroad, which operates a marina on Harbor Island, was turned down on a third port lease opportunity for a 175-room hotel elsewhere on Harbor Island when the Coastal Commission tied the venture to a request that the port set aside land nearby for low-cost, overnight visitor accommodations, like a campground or youth hostel.
roger.showley@sduniontribune.com; (619) 293-1286; Twitter: @rogershowley