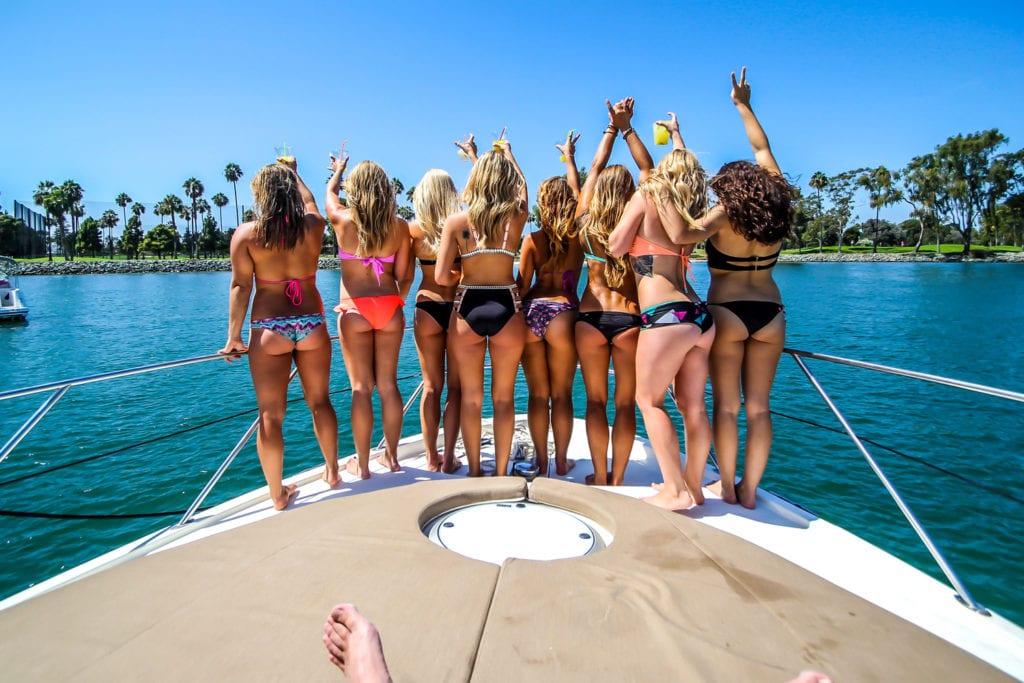 San Diego Bachelorette Boat Party
Girls just wanna have fun…on a yacht charter in San Diego for their Bachelorette Boat Party on San Diego Bay Enjoy a sun-drenched day on the water on your own private yacht. Celebrate your impending monogamy in style with a private party with Mai Tai yacht Charters. Make this Bachelorette party memorable! Chartering a yacht in San Diego is a great choice for the ultimate in privacy – you get the entire yacht to yourselves. You can cruise, swim, relax, suntan and take in the wonderful sights of Downtown San Diego from your private yacht charter.
Her wedding is right round the corner so that means it's time to plan the bachelorette boat party everyone won't be able to stop talking about for years. Search our fleet and find a boat with a captain big enough for your crew! Whether you're sailing, cruising or yachting, a boat is the perfect place for the girls to perfect their tans before the big night out. It's the last sail before the veil t
ime (so get the matching shirts ready) and plan an amazing bachelorette party with Mai Tai Yacht Charters.
San Diego, with its stunning coastline, vibrant nightlife, and perfect weather, is the ideal destination for a memorable bachelorette boat party. Whether you're a local bride-to-be or planning a destination bachelorette party, setting sail on the waters of San Diego will create unforgettable moments for you and your bridal party. In this blog post, we'll take you through the ultimate guide to planning the perfect San Diego bachelorette boat party.
Choosing the Right Boat
Selecting the perfect boat is the first step in planning your bachelorette boat party. Mai Tai Yacht Charters offers a variety of options, from luxury yachts to party boats, ensuring you find the vessel that suits your needs and budget. Consider factors such as group size, budget, and preferred amenities. Some boats even come with onboard catering and a crew to take care of your needs, so you can focus on having fun.
Party Planning Essentials
Once you've secured your boat, it's time to plan the party essentials:
Guest List: Create a guest list that includes your closest friends and family members. Keep the bride's preferences in mind, but don't forget to invite some close pals for a wild and memorable celebration.
Date and Time: Choose a date and time that works for everyone. Daytime cruises offer gorgeous coastal views, while evening parties come alive with the city's skyline as your backdrop.
Decorations: Get creative with decorations that match the bride's style and the nautical theme. Think balloons, streamers, and banners in a sea of blues and whites.
Catering: Whether you opt for a full catering package or a DIY approach, be sure to have plenty of food and drinks on board. Don't forget to bring some celebratory champagne for toasting.
Music: Create a playlist with the bride's favorite tunes or hire a DJ to keep the party going. Music sets the mood for a fantastic celebration.
Activities on the Water
San Diego's bachelorette boat party scene offers plenty of activities to keep your guests entertained:
Swimming and Sunbathing: Enjoy the California sunshine by swimming, sunbathing, or just relaxing on the boat's deck.
Water Sports: Some boats offer water sports equipment like paddleboards, kayaks, and snorkeling gear, adding an adventurous twist to your party. We recommend West Coast Paddle Board Rentals in Point Loma as the best possible experience for paddle boarding in San Diego Bay.
Games: Plan some bachelorette party games, such as truth or dare, drinking games, or a scavenger hunt.
Sunset Cruise: If your party falls during the evening, a sunset cruise is a must. Witnessing the sun dip below the Pacific Ocean is a magical experience.
Safety First
Safety should always be a priority. Ensure your boat operator has all the necessary licenses and insurance. Encourage your guests to drink responsibly, designate a sober friend, and provide life jackets if necessary.
Capture the Memories
Don't forget to capture every moment of your San Diego bachelorette boat party. Hire a photographer or designate someone in your group to be the official photographer. Share the memories on social media or create a scrapbook for the bride-to-be as a keepsake.
Conclusion
A San Diego bachelorette boat party is a fantastic way to celebrate the upcoming wedding and create unforgettable memories with your closest friends. With the perfect boat, thoughtful planning, and a dash of creativity, you can ensure that your bachelorette boat party in San Diego is an absolute success. So, gather your crew, set sail, and make this special occasion one to remember. Bon voyage!