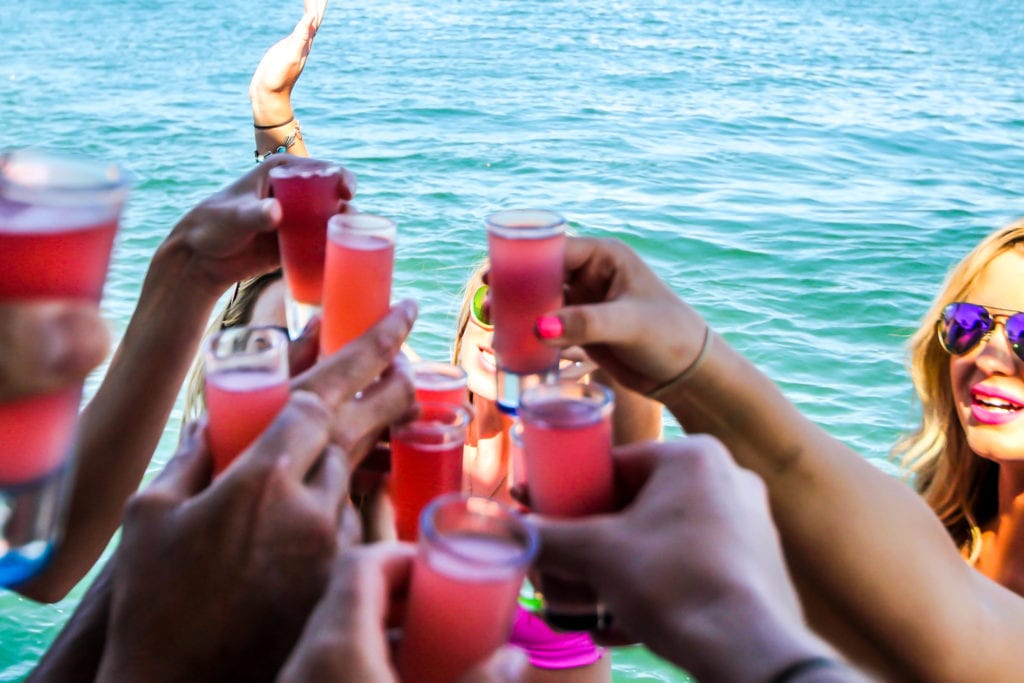 San Diego Booze Cruises
Come spend an amazing afternoon playing aboard our ultimate boats for San Diego Booze Cruises. Ride the wind along the spectacular skyline of San Diego. Our fleet consists of spectacular sailboats and custom powerboats approved for up to 110 passengers. Customer service is our number one priority, and we aim to keep our passengers entertained, from our friendly, upbeat staff to our clean, perfectly maintained yachts.
All our staff is professionally trained and will keep your safety and satisfaction in mind at all times, making your day cruise from San Diego an unforgettable adventure. Whether you're looking for a lively party, fun-filled family day or romantic sail, we have the cruise for you on most spectacular party boat in San Diego. Easy-going vibe onboard makes it easy to have a blast with your friends and make new ones. You may even find yourself hanging out with some new pals at a local club after your cruise.
Mai Tai Yacht Charters offers several San Diego booze cruise options. Our adventures aboard powerboats or sailboats are custom made for the true water sports fanatic. Keep your eye out for the friendly dolphins that often swim beside the boat. Unforgettably romantic, our two hour sunset cruise is a perfect way to end a day in lively San Diego Enjoy a champagne toast as the sun sets over the spectacular San Diego skyline, then cruise back as darkness falls and the city lights up the vast tropical sky.
San Diego, often referred to as America's Finest City, is known for its beautiful beaches, stunning coastline, and vibrant nightlife. But what if we told you that you could combine all three of these elements into one unforgettable experience? Welcome to the world of San Diego Booze Cruises, where you can enjoy the best of San Diego's craft beverages while taking in the breathtaking views of the Pacific Ocean. In this blog post, we'll dive into the exciting world of booze cruises in San Diego, including the types of cruises available, the top providers, and the unique experiences they offer.
Types of San Diego Booze Cruises
Craft Beer Cruises: San Diego is a craft beer lover's paradise, with an abundance of local breweries offering unique and flavorful brews. Many booze cruises in San Diego take full advantage of this by offering craft beer tastings on board. These cruises allow you to sample a variety of locally brewed beers while cruising along the San Diego coast.
Wine Tasting Cruises: If you're more of a wine enthusiast, you're in luck. San Diego also boasts some excellent wineries. Wine tasting cruises offer a relaxing and scenic way to savor local wines while enjoying the ocean breeze.
Cocktail Cruises: For those who prefer cocktails and mixed drinks, cocktail cruises are a fantastic option. You can sip on your favorite libations while enjoying the stunning waterfront views. Some cruises even have professional mixologists on board to craft exquisite cocktails for you.
The Unique Experiences
Sunset Views: One of the most enchanting aspects of San Diego booze cruises is the opportunity to witness breathtaking sunsets over the Pacific. The combination of vibrant colors in the sky and the serenity of the ocean makes for an unforgettable experience.
Whale Watching: Depending on the season, some booze cruises offer the chance to see majestic marine life. San Diego is renowned for its whale-watching opportunities, and spotting these gentle giants from a cruise ship is a thrilling experience.
Party Cruises: If you're in the mood for a lively atmosphere, consider booking a party cruise. These often include live music, dancing, and a fun, social crowd, making for a lively night on the water.
Conclusion
San Diego booze cruises provide a unique way to explore the city's beautiful coastline and indulge in its vibrant craft beverage scene. Whether you're a craft beer connoisseur, wine lover, or simply someone seeking a memorable time on the water, there's a booze cruise in San Diego tailored to your preferences. The combination of delicious drinks, stunning views, and perhaps even a glimpse of marine life creates an experience you won't soon forget. So, the next time you're in San Diego, raise a glass to a booze cruise and savor the taste of the Pacific.